Sorry about taking a few days off, my friends. I had a sick baby at home with Hand, Foot and Mouth Disease. Poor baby was a tad bit needy...as in she wouldn't let me put her down, ugh. So sorry to say, blogging just fell to the back seat. But I'm trying at least get back on the bandwagon.
So my last post was tips for marriage, but today's post is specifically for wives and how to love your husband through difficult situations: Jolene Engle had an incredible series in 2013 that addresses how to have a better marriage:
31 Days to a Better Marriage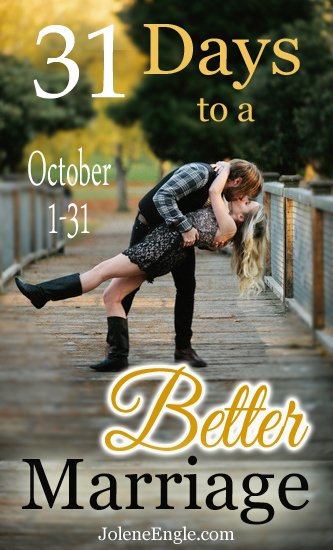 I tried to sum it all up but it just wasn't possible, so I
stole
borrowed the summary Jolene has up on her introduction page:
"You'll learn about wives who have gone through hardships such as:
Years of a messy marriage, financial turmoil, Adultery, Pornography, The death of a child, Living with cancer.
We are real wives with real issues and we'll be sharing from our place of pain, how we overcame, what God has taught us, how He changed us, and what we do to keep our marriage thriving."
Jolene's series address some of the most difficult situations that can arise in our marriage and how to get through them: sex, in-laws, differences in expectations, and the list goes on and on.
I love
day 17
: His Wife First. It applies greatly in my life because although I ADORE my children, I also LOVE my husband. Remember the other day when I said one of my mottos is that the best thing I can do for my children is to love their father? This day is all about that mission - being a wife, first. Another post I really enjoyed was
day 22
: Being Intentionally Intentional. Its making sure that we embrace very day we have together.
If you don't read through this whole series, because it can definitely pull on the heartstrings, book mark it! Go back when you're struggling in your marriage. Go back to this when you've hit a rough patch (because yes, we ALL will have those times) and be encouraged, be strengthened, and be challenged.