Well, I was going to do a typical "Menu Monday" post, but trust me, there is nothing special about my menu this week. We're still having the finishing touches done to our kitchen, so I'm not cooking as much as I'd like to. So instead, I thought I'd post about what I WANT to cook once my kitchen is complete!!!
If there is one great thing about summer, its the fresh fruit! I love all the great deals you can get. Our local market has fresh peaches for only $0.99/lb. AWESOME!SO I've been looking at all kinds of new things that I can't wait to cook - all with fresh peaches!!!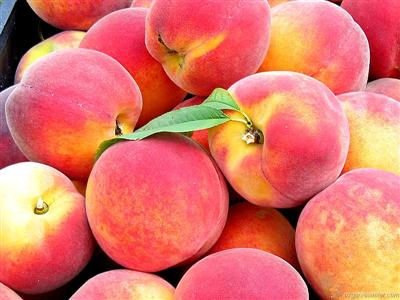 Of course there is the typical peach cobbler or dump cake, but I want new things. If you've looked over any of my recipes, you might has been
this one
: Chicken & Peaches - its a Rachel Ray recipe and is absolutely delicious! I want more things like it!!
So in my search, I found these:
Southwestern Chicken and Mango-Peach salsa
Grilled Steak Salad with Peaches, pecans and limes!
(sounds like a little piece of heaven to me!)
Grilled Chicken Breasts with Spicy Peach Glaze
Or this -
Beef Kabobs with Georgia peaches
! Yes Please!!!
Then I found these for breakfast. I might be trying the pancake recipe this Saturday!
And of course, I do need some great new dessert recipes! These are already making my mouth water!!!
Peaches and Cream Bread Pudding with Amaretto Sauce!
Peach Mug Pie
Cinnamon Pound Cake with Stewed Peaches
Or maybe I'll even be daring and make my own peach jam!!!
What are some of your favorite peach recipes?