Ah, its another week and another menu full of exciting culinary concoctions. Well, maybe that a bit of an exaggeration, but I am trying a brand new recipe this week.I always love trying new things.
Monday:
I am so excited to try this Spicy Sausage Pasta from
Lindsey's
blog. It looks so fantastic! And just FYI - I did ask Lindsey if it was too spicy for lil' one, and she said "no." She used a mild rotel and both her itty bitties ate it! I am so ready to try this...can you tell?
Tuesday:
Lemon Pepper Chicken with homemade mac'n'cheese and roasted brocolli
Wednesday:
Chicken Cacciatore subs (this is always one of my favs!) I've blogged the recipe before
here
.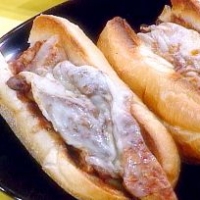 Thursday:
"Breakfast for dinner" night! Country omelets! The "county" part is diced ham, bacon, onion, green onion, and lots of cheese topped with some homemade salsa!
Friday:
Dallas Baptist University's Baseball Opening Night!!!
This is a huge night because its DBU's reveal of the brand new Horner Ballpark. Since Brant is working, he will obviously be there, so Emmalee and I will happily sitting in our new season-seats! Row 101 seats 7 & 8! Unless of course, Emmalee decides that running around the field house is more fun, ha!
Hope you all had a great weekend. Up next, a post about the new, fabulous recipe I tried on Saturday! Its a must-have in your recipe repertoire!