I am so excited that it has finally gotten cooler in North Texas. I am ready to make some of my favorite fall recipes! I love chili and stews and those delicious recipes that just give you that warm & fuzzy feeling! Oh, I love this time of year!!!
Here's my menu this week!
Monday - Green Chili Enchilada Bake a.k.a. "I Don't Feel Like Making Dinner" Dinner
This sounds like something really similar that my mom used to make, so I'm excited to try it!
And I don't remember how I found this blog, but I'm excited I did! It seems like it has some really delicious recipes!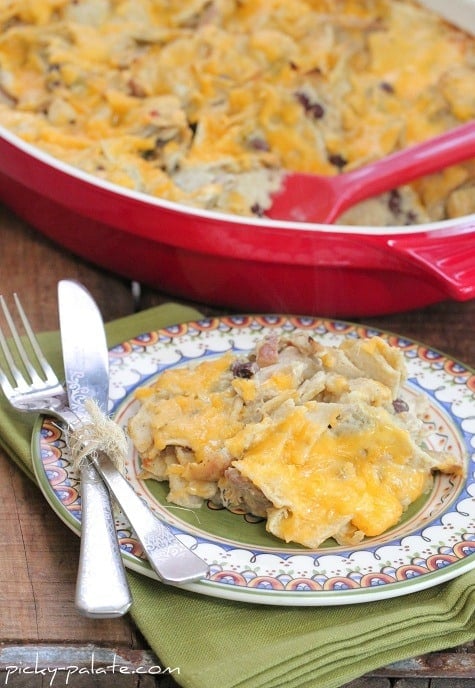 Tuesday - Crockpot Chicken Noodle Soup
(I've made this before and it was beyond delicious, but I'm not sure I ever posted the recipe. So I promise to post it tomorrow!)
Wednesday - Chicken Salad Pitas with sweet potato fries
Thursday - Chicken pasta (this is just a Macaroni Grill frozen meal) with a spinach salad and garlic bread
Friday - Pizza Night!!!
Saturday - Brant's parents are coming in town so we're going out.
Sunday Lunch - Zesty Italian Crockpot Chicken - I am SOOOO excited about this!
I found this recipe through
Kelly's Korner
when she did her
"Show Us Your Life - Crockpot Meals"
, but I'm not sure who I got it from. I have never tried it but is sounds amazing. You just need:
chicken breasts
8 oz. cream cheese
zesty Italian seasoning (the kind in a pouch like the dry ranch mix)
1 Can Cream of Chicken soup
Mix your cream of chicken and cream cheese together over low heat until the cream cheese is melts.
Put the chicken in the crockpot, sprinkle seasoning over chicken, then pour the soup mixture over that. Cook on low for 4 hours. If the sauce is too thick, add a bit of water or milk. Serve over pasta a top with some Parmesan cheese.
How simple is that? And perfect for a Sunday lunch - put it on at 8 and should be ready just when we get home! I'll let you know how it turns out!!